Skype for Business: How To Select/Change Simultaneously Ring Option
Last updated


1. Have the client log/sing into Skype For Business Client.

2. Click on the Gear icon on the top right of the Skype For Business Client.
Example:




3 On the left side menu options select the Call Forwarding Option. Then select the bubble option listed Simultaneously Ring Option. Add or change the User/Number or Groups of Individuals you would like to have enabled or modified.
Example:



4. Click on the OK at the bottom of the menu screen. You have now enabled this feature function.
Example: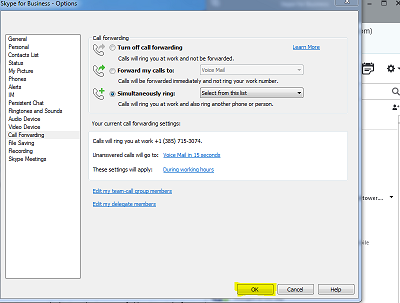 NOTE: if all of the above steps do not resolve the issue, call your help desk
or escalate to tier 2 as per Skype / Lync support KB.

ESCALATION INFORMATION
Primary Escalation Path: Skype for Business (Lync 2013 / 2010)
· Team: Skype 2nd Line Support, Tier 2.