Microsoft - SfB Desktop Client: Clear Skype for Business cache
Last updated
Skype For Business: How To Clear File Caches.
Goal
This document will walk you through clearing the Skype cache on your Windows desktop client. Clearing cached Skype for Business application files is a great troubleshooting step for common everyday issues (i.e. problems signing in or Exchange integration warnings). The two options below provide steps for clearing these cached files.
Method 1: Using an automated script to clear cache.
Download the automated script by clicking

here

and selecting the option to download
Once the file has finished downloading, run the script by double clicking on the downloaded file. When you open the file, a prompt will pop up asking if you would like to open the file. Select the option to "Open".

Note: Skype for Business and Outlook will automatically close and you will see a pop up message that says "Process complete.

Launch Outlook
Launch Skype for Business.
See the video below to walk through the steps above..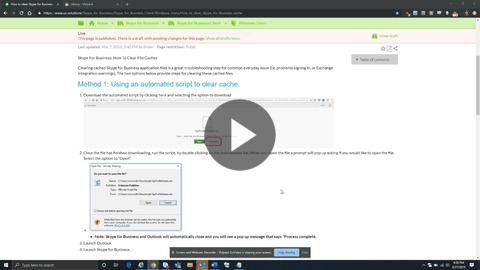 Method 2: Manually clearing the files
Close Skype for Business by clicking on the black down arrow next to your status and selecting Exit
Close out of Outlook by selecting File -> Exit or by clicking the X in the upper right hand corner.
Open File Explorer by selecting the Icon on the task bar
Browse to: %userprofile%\appdata\local\Microsoft\Office in the address bar. (e.g. C:\Users\cmcmullin\AppData\Local\Microsoft\Office)
Select the folder that corresponds to your version of Office, either 15.0 or 16.0
Select the Lync Folder
Delete the sip_alias@domain.com folder and the Tracing folder.
Launch Outlook
Launch Skype for Business
See the video below to walk through the steps above.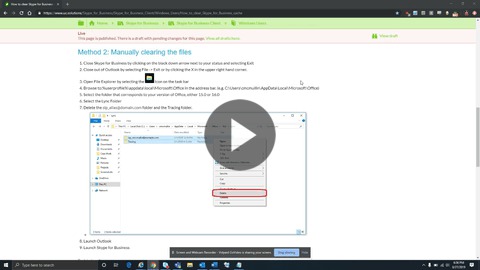 Cause
This is the most common troubleshooting step for issues experienced with your Skype for Business PC client. Cached files are designed to make your use of a product easier by storing temporary files locally so that the program doesn't need to download them each time the program is used. Sometimes the files can have old information in them that is no longer valid or that get corrupted. Clearing the cache makes your computer download new fresh files from the internet and can resolve many issues you may be experiencing.