MS Skype - Duplicate Contacts Appearing In Outlook
Last updated
Outlook and Skype for Business (Lync 2013)

Resolution
Pre-requisite:

Download and install MFCAPI at https://mfcmapi.codeplex.com/
Close out of Outlook completely
Steps to resolve:

1. Run MFCMAPI.exe.
2. Click on "Tools" from the top menu, and then click "Options" from the submenu.
3. Click to enable the following option: Use the MDB_ONLINE flag when calling OpenMsgStore
4. From the top menu select "Session" and select Logon from the submenu.
5. If you are prompted for a profile, select your profile name, and then click OK.
6. In the top pane, locate the line that corresponds to your mailbox, and select it (do not double click).
7. From the top menu select "QuickStart", select the sub-menu option "Open Folder", then select "Contacts"


8. When the new "Contacts" window appears it will show all of your current Outlook contacts. To navigate to the Skype for Business contacts select "Folder" from the top menu then from the sub-menu select "View" and then the option for "Hierarchy".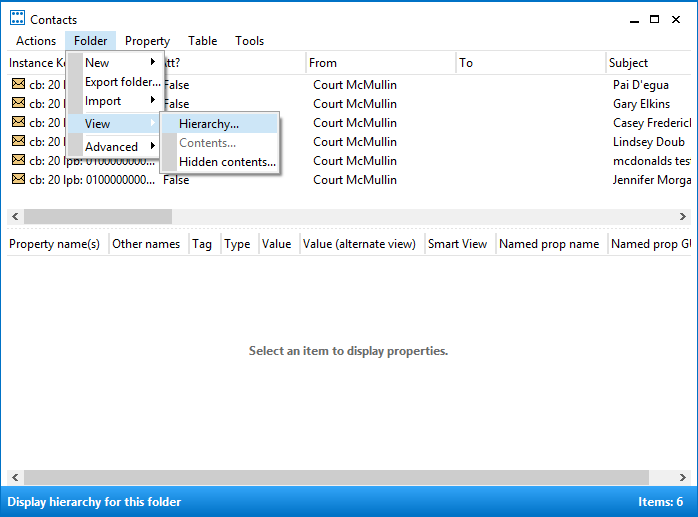 9. In the left hand pane expand "Contacts" and then right click the "Skype for Business Contacts".
10. Select the option to "Delete folder"
11. Open Outlook client to check if the Lync contacts folder has been deleted.
12. Close out of Outlook and Skype for Business completely. Then restart Skype for Business and then Outlook. It may take a few minutes for the folder and contacts to re-appear.