​​​​​​​DHCP Configuration for Skype for Business Phones (3PIP/SIPGateway)
Last updated
DHCP Configuration for Skype for Business Phones (3PIP or SIPGateway)
Provisioning Server Location
When receiving a dynamic IP address on the network phones will by default look for the location of a provisioning server by first checking for the existence of DHCP Option 66. In the event that option 66 is not configured then it will fall back to looking for Option 160.
To use option 66
Using DHCP Manager configure the Server Options under an existing IPv4 scope and then enable option 066 Boot Server Host Name.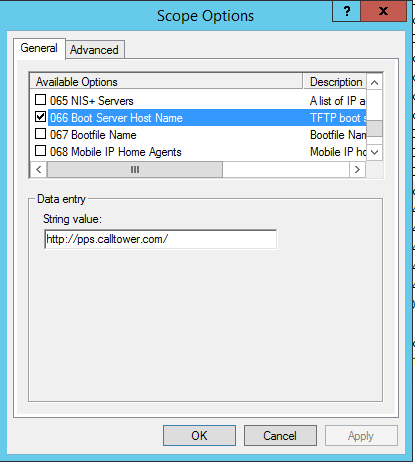 In the event that option 66 is to be used instead of option 160 then it can be defined in a Microsoft DHCP server by simply configuring the pre-defined option.
If planning to use option 160 with a DHCP server that does not already have it defined, like Microsoft Windows DHCP, then the option will first need to be created.
Using DHCP Manager highlight the network type object (e.g. IPv4) and then select the Set Predefined Options action.
Click Add to create a new option and then enter a descriptive name (e.g. UCS Boot Server Name). Change the Data Type to String and then enter 160 as the Code value. If desired add a Description and then save the new option.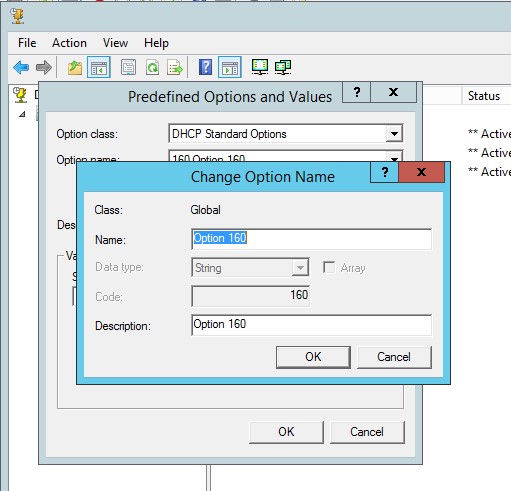 Configure the Server Options under the same network scope and then select option 160 UCS Boot Server Name.
Firewall Considerations:
Please Refer to our Firewall Documentation and make sure Hardware Phones are able to access pps.calltower.com on all the correct ports.
https://www.uc.solutions/Skype_for_Business/Skype4B_Set_Up/005Firewall_Settings
For more information about SIP Gateway to support 3PIP Devices check this Microsoft Documentation:
Plan for SIP Gateway: https://docs.microsoft.com/en-us/mic...p-gateway-plan