Cisco Connect Admin - Voicemail To Email
Last updated
Goal
The purpose of this article is to help CallTower Connect Customer Administrators understand how to add Voicemail to Email to their users in CallTower Connect.
Resolution/Steps
1. Click on the contacts link:

2. Once in the contacts tab you will need to select the add icon:



3. Add the following Information:
1. Display name (First & Last Name). CallTower likes to add "EXT" at the end to indicate external email address.
2. First Name
3. Last Name
4. Email address (For voicemails/transcriptions to go to)
5. Check on Global address list if you would like the email address to appear in the Global address list.

6. Select the Save Icon as seen in the picture above.


4. Pull up the user:
1. Select the user link from the menu


2. Pull up the user whom the phone is assigned too.
1. Search by username, First name, Extension, Etc
2. Select the user so that they are highlighted in purple.

5. Click on User Settings and then Proprieties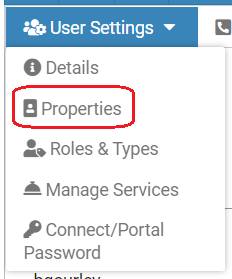 6. In the box that opens, go to 4. Forward and scroll down to Mail Forwarding.



8. Enter the Display name you setup earlier in the mail forwarding box.
9. check 'deliver to both mailboxes'
10. Click Save.