CT Cloud Voice Admin - Phones
Last updated
Adding Phone:
To add a new phone in Connect, you must be an MPOC (main point of contact). You can have this enabled by opening a case with support and getting permission from a current MPOC to change your account type from "User" to "MPOC" in Connect. If you don't know your username or password, contact support.
Once your account is an MPOC account, you can get started with creating and deleting phones.
Once logged into Connect Admin portal, click on menu on the left and then phones
Click the "+" icon to add a new phone and follow the wizard

You wil be able to add the phone as inventory or you can assign it to a user.
To add it to a user, from the menu, click on user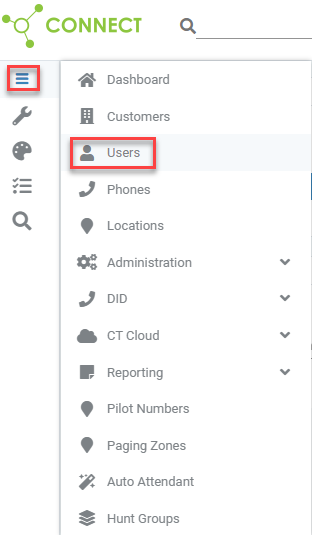 Select the user, then phones, then phones. You will see the "+" to add a phone to a user. You can then follow the wizard to add the phone.
You will then go through the add phone from the drop down and the phone number. Click the "+" sign to save.
Managing phones
Menu > CT Cloud > Phones (CT Cloud)
From this view, you can see all the phones and the users they are assigned to.
Edit/Refresh Registration/Reset Auth Timer

Edit - Allows you to modify the description of the phone
Refresh Registration - Will check if the phone/device is currently registered
Reset Auth Timer - When you assign a phone you have 1 month to get the device to register. If you need more time you can press the reset auth timer to give you more time.
Manage Phone from BG admin
You can follow these links to manage phones: