OnDemand - Searching For Moderator
Last updated


Environment
To find a client in the system, on the:
Administration menu, select Client Management ► Search for a Client.
Search menu, select Search for a Client.
You can search by First and/or Last Name, Client ID, Email Address, Billing Reference Number, Special Info, or by External ID.
The First and Last Name fields let you search for clients whose names "start with" the two (or more) characters you enter. For example, a search for first names that start with "Jo" would return clients with the names, Joan, Joanne, Joe, John, Joseph, etc.


Enter your search criteria, and then click Search. The page refreshes and displays search results at the bottom.




From the search results, you can use the Action buttons to manage the client.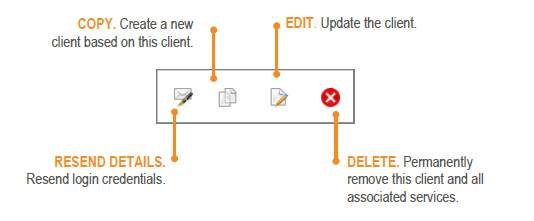 Edit a Client Page
Search for the client you want to edit, and then in the search results, click the Edit button. The Admin Portal displays the Edit a Client page.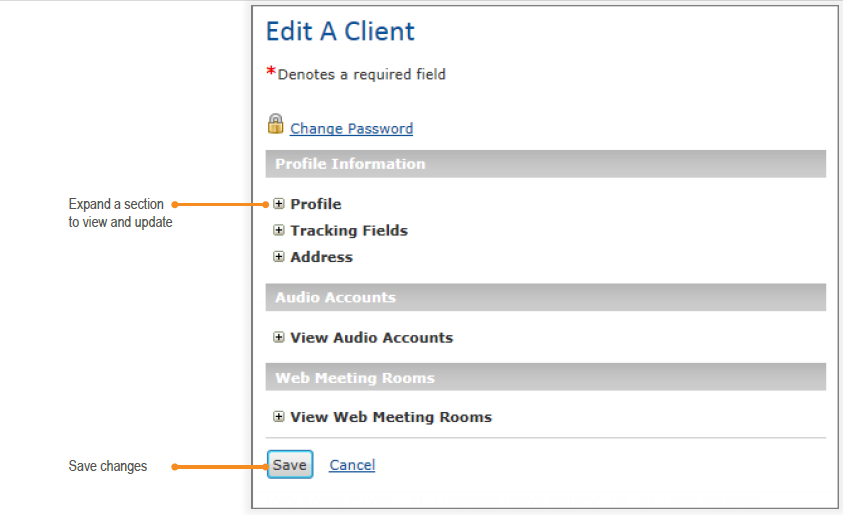 There are three main sections on this page. Click the [+] next to any item to view and update that group.
Profile Information – the contact details, tracking fields, and address you entered when creating the client. You can update this information.
Audio Accounts – the audio accounts provisioned for the user. You can enable and disable conference features, reset audio passcodes, and provision a new audio account or remove an existing one.
You cannot delete an audio conference if it is associated with a web meeting.
Web Meeting Rooms – the web meetings provisioned for the user. You can enable and disable meeting features, change a meeting URL, change the audio conference account associated with the web meeting, and provision a new web meeting or remove an existing one.
NOTE: When you click Save, the Admin Portal displays a success page with key details about the updated client and products.