How To Change the Ring Policy On A Phone
Last updated
1. Log into the Admin Portal and navigate to the Phones Tab.

2. Select the phone in question by searching for the MAC address, or Phone ID, using the search field or by scrolling down to the phone. Click once to select.



3. Select Manage Phone to cause the drop down to appear and select Line Properties.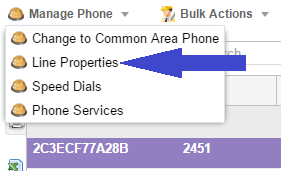 4. A sub-window on the right will open. Select the phone line or extension, which is labeled as DN, in question and select Update.


5. The line properties will appear beneath the lines on that phone.
Two of the properties are Ring(Idle) and Ring(In-Use).
Ring(Idle) is when no one is using the phone.
Ring(In-Use) is when the someone is talking on that phone.



For best practices, if that line should not ring or only flash-
change both Ring(Idle) and Ring(In-Use) to "Flash Only". Other options may be chosen as desired.




The default is for the phone to ring when not in use.

6. Save the changes.