Create a User Phone
Last updated
1. Click on the Add button on the Phones tab.
2. The Add Phone Wizard will appear on the right side of the screen with a list of phones on the left. Select the User Phone as the Purpose. Enter the remaining information:
a. Device Type drop-down
b. Device Model drop-down
c. Device Template drop-down
d. Mac Address field
e. Location drop-down
3. Once you have finished entering the information click on the Next button down near at the bottom.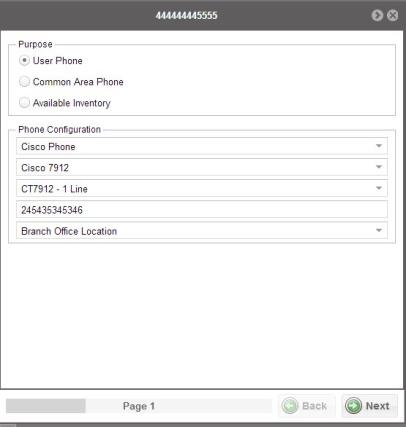 1. Select the User for the phone from the list. If the 911 DID is missing, the Next button will be disabled. You can add the 911 DID by double-clicking on the User and select the number from the drop-down list and clicking on the Update button. Then highlight the User and click Next.

Note: If this is the user's first phone – the user's DID will be used as the 911 DID. If it is not their first phone, a 911 DID will need to be selected from the drop-down of available numbers.
1. The final screen is a summary that contains all the information entered previously. Review the information for accuracy and then click Finish if it is complete.

2. If a change is needed, click the Back button and go to the appropriate page.