Connect Admin - Obtain A Call Detail Report
Last updated
Resolution
Connect: How to obtain a Call Detail Report (CDR)
When a client calls in a needs to request a call detail report (CDR). The following steps below will aid in getting that report.
After retrieving the OU in connect click on Reporting, Call Detail Report.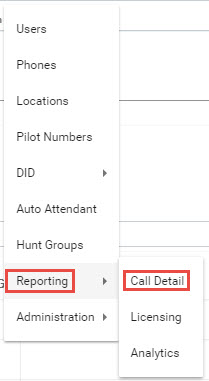 After selecting the Call Detail option a new window will open. From this window either the detail report can be pulled by day or in a full month of data. NOTE: The full month report will not be available until the next following month. typically by the second business day.





If the report the client is not there then an escalation will be needed.