OnDemand - Enabling "Record Client Code"
Last updated
Details
Enabling this feature will prompt the host of the call for a client number for internal tracking of conference calls.
Once logged into the Hub, search for the account using the client ID, name, or email address. Once you have located the appropriate account you will click on the edit icon.
Once you are on the profile page you will click the plus sign next to "View Audio Accounts" and then the edit icon once more.
Once on the "Edit Audio Conference Account" page click on the plus sign to the left of "Conference Options", check the box next to "Record client matter mumber", and enter the minimum and maximum number of digits.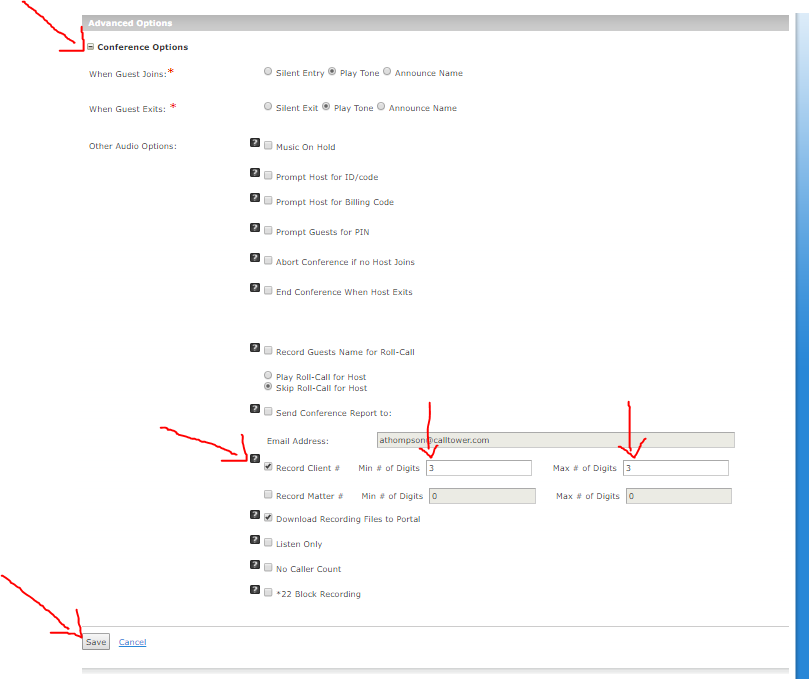 Click save after the appropriate numbers have been entered into the minimum and maximum # of digits fields. This feature will be enabled immediately.
Examples
Example 1:
First example shows ...
Example 2:
Second example shows ...
Considerations
Give some considerations such as system requirements or "gotchas" for this setting or control or programming syntax.