CT Cloud Fax - Legacy Interfax
Last updated
There are 2 applications utilized for CTFax Complete: End User's Email Application and User Portal.
Sending Faxes Via email
To send an eFax using email, just type into the "To" field:
1(10 digit phone number you want to fax to)@fax.tc.
Example: 18555001750@fax.tc
Note: You will need to add authorized users under Preferences >> Outgoing in the user portal.
Once added the user@domain user will be able to send outbound faxes from their email address.

User Portal Settings
To login to the User Portal: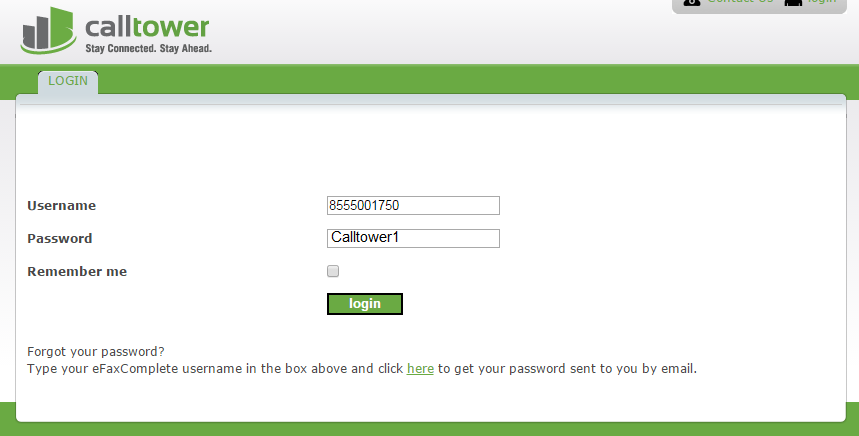 To change your password:

Click on "PREFERENCES"
Click on "Change" under "General"

Once the new screen appears, enter your "Old", "New", "Confirm", then "Save new password".
To send an eFax:

Click on "SEND FAX"
Enter the 10 digit fax number you want to send to in the "FaxNumber" field and click "Add". This will load the number into the "Recipients" box.

Hint: You may add multiple numbers

There are 2 options to send an eFax; Attachment or Message. You may choose one or the other, but not both.

Attachment: Click "Upload a file to be faxed" and choose a local file.
Message: Click the check box "Add the following text as a first page", then type you message.
Click "Submit":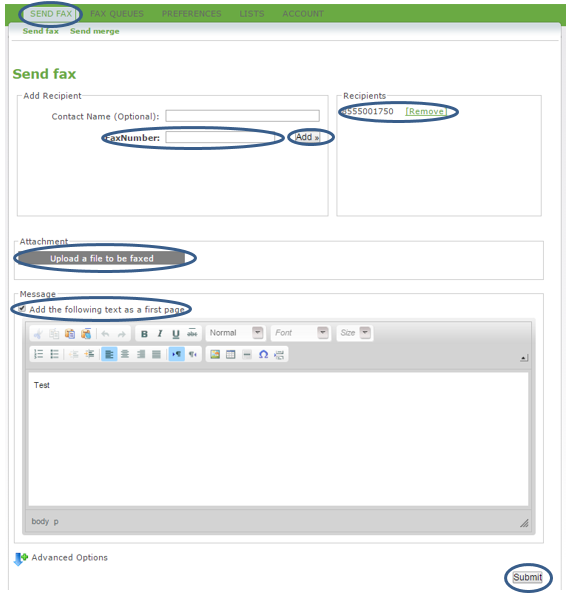 To add additional incoming eFax Complete recipients:

Click on "PREFERENCES"
Click on "Change" under "Fax Reception"
Enter the desired email address in the "Address to add" field, then click "Add"

Hint: No need to click "Update"
To view emails you've sent:

Click on "FAX QUEUES"
Click on "Outbound Queue"

To view emails you've sent:

Click on "FAX QUEUES"
Click on "Outbound Queue
​