Adding custom hold music to a VVX phone
Last updated
This article will detail the steps to add custom hold music on a Polycom VVX series phone.
The steps below must be performed on each phone individually.
Find the IP address of the Telephone
1. Press the Home button.
2. Select Settings.
3. Select option 4 Status.
4. Select option 2 Network.
5. Select option 1 TCP/IP Parameters.
6. Note the IP address listed on the second line as you'll need it for the configuration steps below.

Connect to the Polycom Web Configuration Utility
1. Launch a web browser on a Windows computer using the same local network as the phone.
2. Enter the IP address of the telephone (see the section above to determine the phone's IP address) in the URL bar.
3. On the login page, select the Admin button and enter 456 as the password. Click Submit.
Note: If the phone has been added to our provisioning server at some point in time the default admin password may be 654.


Configuring the hold music
1. From the Web Configuration Utility home page, hover the mouse over the Preferences button, and from the sub menu that appears, select the option Additional Preferences.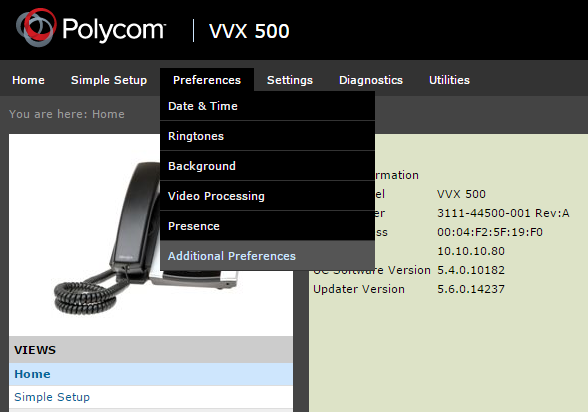 2. From the Additional Preferences page expand the option for Music On Hold by clicking the small + icon on the left.
3. Verify that MOH Status (Music On Hold) is set to Enable

4. To set custom hold music, click the Add icon located next to the Music File field. (Note: Only .wav files in mono format 8 or 16 kHz are supported, and the file size must be less than 1MB in size)
5. A pop up window will appear giving you 2 options to add a customer file. You may either Select a file from PC/Desktop, or, you may Enter URL (the URL format must be to a complete file URL such as http://www.calltower.com/test-music.wav).
Or
6. If the file or URL follow the correct formats, you will see an Information pop up appear stating "Selected file is downloaded successfully.". This means that the hold music has been successfully installed to the phone and you may now close your browser.