Enabling UC Recording (Verba) Services
Last updated
Steps to enable UC Recording (Verba) services.
To Add UC Recording (Verba) to a User:
To add Verba to a user, complete the following steps:
Log into Connect
Search for the appropriate company
Go to the user Tab and select the user you want
Mouse over "User Settings", then select "Manage Services", and add the services to the user (Here is where you will select the type of call recording). UC Recording Full Time: Every call is recorded. UC Recording OnDemand: All calls are recorded to a 2-day buffer and can be marked for saving during or after the call. UC Recording Controlled: Call recording can be stopped and started at any time during the call. UC Recording IM Only: Will only record IMs (this only works for SfB customers) UC Recording Do Not Record: Will not record anything. (This can be used to create a UC recording account for an admin/supervisor that does not need the actual service.)
After the service is added, there will be a new tab that will appear on the user called "UC Recording". You may use this tab to update their role and the type of recording service they have.
Select the user, then select "UC Recording"
There are only two roles, standard and supervisor. If you make the user a supervisor, it will allow them access to see all other recordings within the company.
NOTE: by default Instant Message is already selected
NOTE: IM and Video is for Skype for Business users only.
NOTE: that video is only peer to peer. IM is selected as a default; you will have to un-select if you don't want it recorded.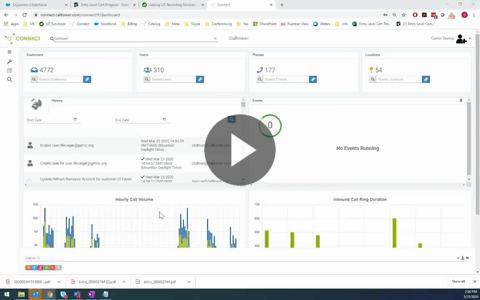 Check out this video: https://share.vidyard.com/watch/MFvDxJE6A1rWiGb7RKvMz9?