CT Cloud Voice - 3CX: Voicemail
Last updated
This training is to provide a "how to" retrieve and listen to message on the desktop and softphone.
What is a Voicemail
A Voicemail is a call that was missed either due to being logged out, to being busy, or to missing a call. The voicemail will be generated under these conditions unless the settings in the account have different rules.
How to know if there is a new message for you.
New messages are indicated by a blinking light on your device. If you are using the desktop application, it will appear under the phone messages tab.
If your device's indicator light is blinking on the screen, you will see it say "New Message". Press the message button on the device to access the message. You may have to type in a pin depending on the security settings for your extension.
How to listen to messages
For hard phones, simply press the message button or the button that looks like a letter, and the device will automatically forward you to your messages.
To access the message on the Desktop Application, left-click on the phone message tab, and select the message you wish to listen to.

How to delete messages
On the Device, after listening to the message, the system will prompt you to delete the message by pressing 7 on the keypad.
On the Desktop Application, right click on the message you wish to delete and then click "Delete Voicemail".
Video as below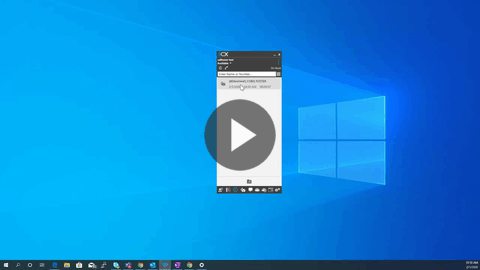 Check out this video: https://share.vidyard.com/watch/6fEx8nCss7uLmFcm7oXUvw?