CT CLOUD SIP TRUNK CALLER ID UPDATE
Last updated
Goal
Is to update Caller ID on a Sip trunk
This article is designed to help walk you though how to correctly update a Caller ID for a sip trunk
RESOLUTION/STEPS:
First Step
· Step one log into Metaview using URL
https://mvw.appiaservices.com:8445/#Subscriber%2520Management
· With your Credentials typically this is First initial last name@appiaservices.com and the same password you use to log into the Cisco Anyconnect VPN https://appiavpn2.appiaservices.com username Auth\first initial last name with your assigned VPN password.
· In the search field look up the Trunk Number (700XXXXXXX) Or DID you are wanting to change the Caller ID for
Second Step
· Once pulled up and verified with customer you have the correct Trunk pulled Select the arrow by Advance found under the configuration tab.
· You will need to Disable CFS Line in order to change the calling party number Be advised this will cause the trunk to drop its registration and is best to do this after hours unless permission is given by the customer to do the change during hours.

Once you have disabled the line the calling party box will no longer be grayed out and you can add the desired DID the customer wants to change this too. Be advised changing this on a sip trunk will cause all numbers associated with this trunk to show this number as the calling number on the destination ID.
Once the DID is entered in the calling party number field Select apply
· After applying the changes select enable CFS line to re-enable the sip trunk.
· Congratulations you have successfully changed the Calling Party number for a customer.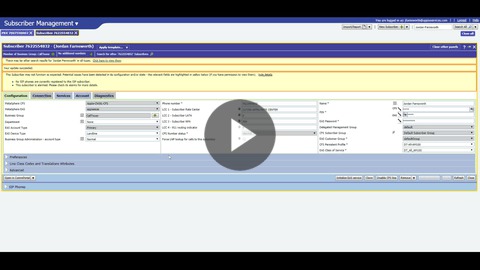 Check out this video: https://embed.vidyard.com/share/XhLAUhEkxhR6dgJ4bagWPV?
Smart and Inquisitive
We are unable to individual set the calling party number for each number on a sip trunk however were unable to set numbers individual on a Business Group because we host services.
Common Issues
User error is the most common issue I.E forgetting to enable the CFS line after making changes by not re-enabling the CFS line the line will not function as it is disabled.
What's Next
Updating the Calling Party Number for a sip trunk.