OnDemand - Pulling Reports in the Hub
Last updated
On Demand- Pulling Reports in the Hub
Completed Meetings Report

The Completed Meetings report shows basic usage information for meetings conducted during a selected date range. It includes information previously contained in the Summary by Client and Summary by Web Participant reports.
The system retains the most recent 90 days of activity and restricts reports to 30 days of activity per report.
NOTE: The report includes usage information, but not detailed billing information.
All users can run this report for their own meeting accounts. Administrators can include meetings for all clients associated with their assigned sites.




The Admin Portal displays the Report Status page. The report you just requested has a status of Not Started or In Progress. You can stay on this page and wait to get the report when it is finished.

Completed Meetings

The completed report is available on the Report Status page (REPORTS ► REPORT STATUS). Use the View options to switch among Summary by Meeting, by Client, and by (web) Participant.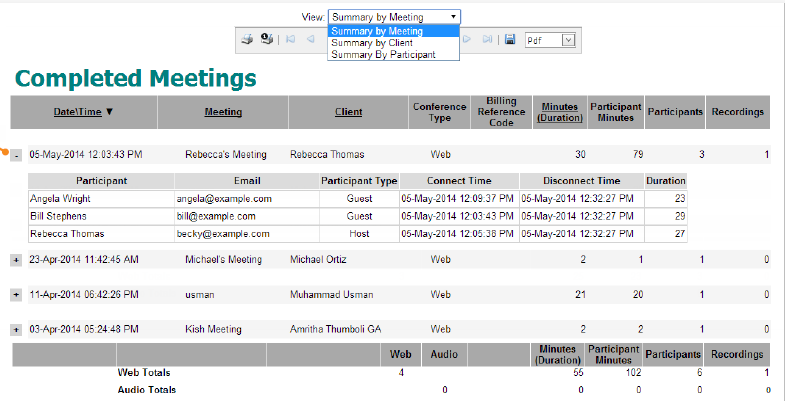 Summary by Client

The Summary by Client Report shows audio and web meeting minute totals, broken down by client. The report includes usage information, but not detailed billing information.



Client Report

The Client Report lists all clients (users) associated with a particular site or company.
To start the Client Summary report, go to the REPORTS menu and then select CLIENT REPORT. Enter your search criteria, and then click Generate Report.
Optionally, you can restrict (filter) search results to include only those clients with the Client ID, Last Name, Special Billing Reference Number, or Special Info code you enter, or list those of a specific user type.

Example Client Report

The following example shows a client report that lists all clients (users) assigned to the site, example1.




Operator Assisted Report - will never be used.