Add a New User
Last updated
New users can be added through the Users tab.
Add a New User Steps:
1. Click on the Add button from the Users tab.
2. The screen is now divided into two parts: A list of users on the left and the Add User Wizard on the right. Enter the user information on the Add User Wizard first screen.
a. User Domain drop-down
b. First Name field
c. Last Name field
d. User Name and Display Name fields – these fields are populated with default values that can be changed.
e. User Location drop-down
f. User Role drop-down
g. User Type drop-down
h. Password field
i. Confirm Password field – a red box will outline your typing until it matches, at which point it will turn blue.
Once you have finished entering the information click on the Next button down at the bottom.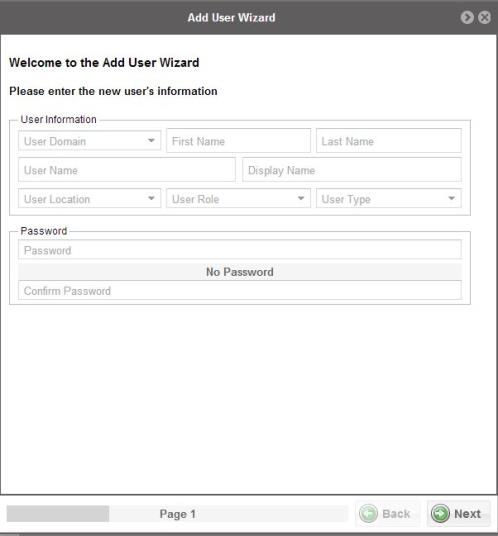 3. Next, add the user services for the new user. Drag and drop you service from the left "Feature" column to the "Enable/Disable" column on the right.
4. Repeat these steps until all the appropriate services are enabled for the user. Once you are done click the Next button.
Note: The services that are pre-populated on the right side of the screen under the Enabled Services column are required for the User Type selected on the first page.
5. Add the Users Phone Number from the Available DID List. Then enter the Cell Phone number, if applicable (this field is optional). Then click on the Next button.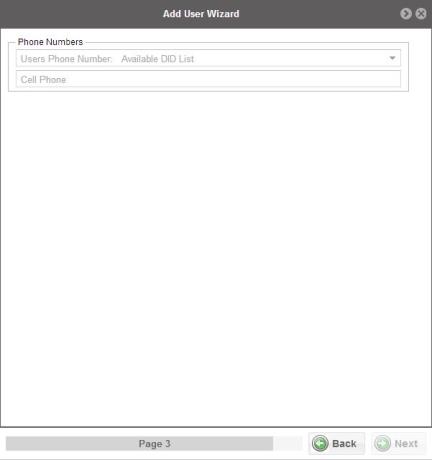 6. The final screen is a summary of the information entered on the previous screens. Review the information for accuracy and then click the Finish button if it is all complete.

Note: If a change is needed, click the Back button to the appropriate page where the change is needed.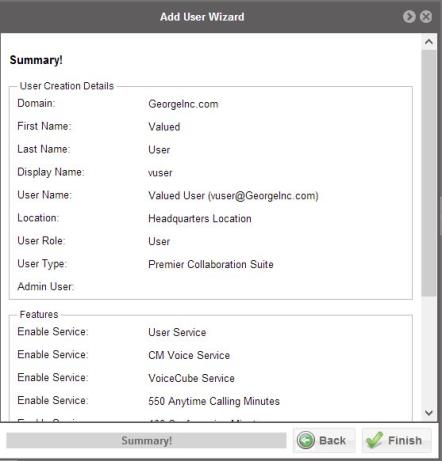 8. Once you click the Finish button, a full screen list of the users is displayed and will include your entry. If you do not see your entry, click the Refresh button on the left.
9. If you click on the Events bar at the very bottom, you will see an entry for the new user.